Kidde Battery Powered Smoke Alarm
Kidde
Battery Powered Smoke Alarm Model i9050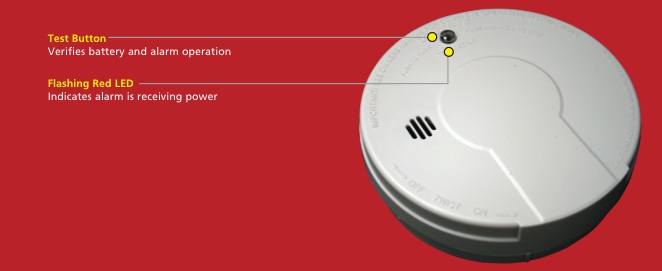 Description
The Kidde i9050 is a full size, ionization, battery operated smoke alarm designed to protect you and your family from the dangers of smoke and fire. The i9050 is powered by a 9V battery, providing continuous protection even during power outages. This unit includes a flashing red LED to indicate the alarm is receiving power. The i9050 is UL Listed and includes a 5 year limited warranty.
Benefits
The Kidde i9050 basic, battery operated smoke alarm provides you and your family an early warning signal against the dangers of fire and smoke. This easy to install smoke alarm includes a test button to verify the unit's electronic circuitry, horn and battery function are work properly. The i9050 also includes a tamper resist feature to help deter theft or tampering. This smoke alarm is powered by a 9V battery and is suitable for all living areas.
Features and Benefits
Easy Installation - No wiring required.
Battery Operated (9V battery included) – Provides continuous protection even during power failures.
Quality Design – 10 year limited warranty.
Flashing LED – Indicates alarm is receiving power.
Test Button – Verifies battery and alarm operation.
Low Battery Indicator – Chirps when battery needs replacement.
Architectural and Engineering Specifications
The smoke alarm shall be Kidde Model Number i9050 or approved equal. It shall be powered by a 9V battery. The unit shall incorporate an ionization smoke sensor with nominal sensitivity of 0.64-1.35%/ft. The temperature operating range shall be between 40°F and 100°F (4°C and 38°C) and the humidity operating range shall be up to 85% relative humidity.
The alarm can be installed on the surface of any wall or ceiling following the UL/NFPA/Manufacturer's recommended placement guidelines. The unit shall provide optional tamper resistance that deters removal of the unit from the wall or ceiling. The alarm shall include a test button that will electronically simulate the presence of smoke and cause the unit to go into alarm. This sequence tests the unit's electronics, battery and horn to ensure proper operation. The unit shall include a piezo- electric horn that is rated at 85 decibels at 10 feet. In a smoke incident, the horn will sound in the repetitive manner – three (3) beeps, a pause, three (3) beeps, a pause.
The unit shall also indicate a low battery warning utilizing a brief alarm chirp ever 30-40 seconds for a minimum of seven (7) days. The unit shall at a minimum meet the requirements of UL 217, NFPA 72, (chapter 11 2002 edition) The State of California Fire Marshall, NFPA 101 (One and two family dwellings) Federal Housing Authority (FHA). It shall also include a 10-year manufacturer's limited warranty.
Technical Specifications
| | |
| --- | --- |
| Model: | i9050 |
| Power Source: | 9V Battery (included) |
| Audio Alarm: | 85dB at 10ft |
| Temperature Range: | 40 ̊F to 100 ̊F (4 ̊C to 38 ̊C) |
| Humidity Range: | up to 85% relative humidity (RH) |
| Sensor: | Ionization |
| Size: | 5" in diameter x 1.75" depth |
| Weight: | .62lbs |
| Interconnects: | No |
| LED: | Red, normal operation |
| Warranty: | 10 year limited warranty |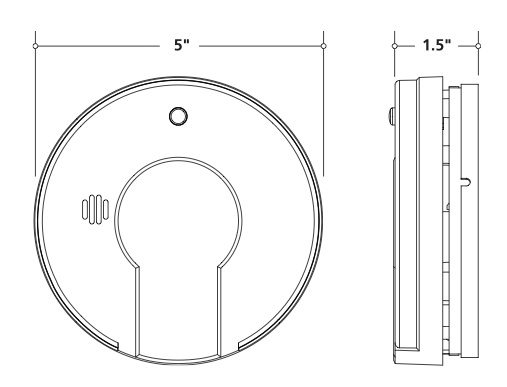 เขียนความคิดเห็น
ชื่อ:
ความคิดเห็น:
คำแนะนำ:

HTML จะไม่ถูกแปลง!
ความนิยม:
แย่
ดี
ป้อนรหัสในกล่องข้างล่างนี้:
ไม่มีรูปภาพเพิ่มเติมสำหรับสินค้านี้