GOMDUR 4K
The Four Layer Fire Hose that has a 5th Invisible cover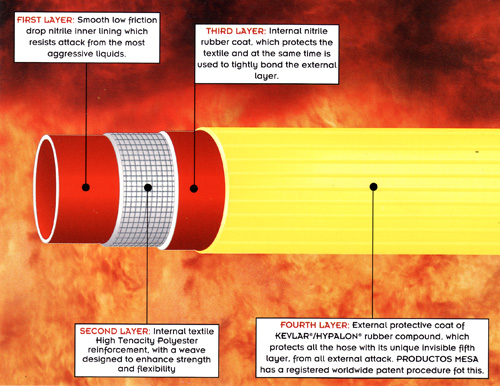 Quality Control
Our Test and Control Laboratory check every day 47 tests of the manufacturing process. We have the most sophisticated apparatus that exists in the best facilities: Ozone Chamber, Rheometer, UV Chamber, Durometer, Electric Dynamometer, Abrasimeter, Ovens and other modern laboartory test instruments.
We have a complete Laboratory served by two Senior Engineers (Chemical and Textile Engineers), who supervise all the tests including the textile and rubber materials that form our hoses.
All the hoses are proof pressure tested ONE BY ONE, to guarantee their perfect life time.
GOMDUR 4-K® is guaranteed by many years of expertise in rubber hose extrusion. Hose is guaranteed against defects in materials and workmanship only offer all these tests are passed do.
What is This Revolutionary New Rubber Compound?
The rubber compound is a breakthrough in the lastes rubber technology. It consists of the perfect integration of multiple KEVLAR® textile filaments with the HYPALON® rubber, that greatly enhances the qualities of both components.
Our Research and Development Department has the unique knowledge how to integrate millions of KEVLAR® micro filaments, with a length less than 0.2 mm. in the HYPALON® rubber, forming a protective network with an average density of 1,500 filaments/cm², that protects the five hose from any external aggression.
What are These New Properties?
We can greatly increase the main technical characteristics (abrasion resistance, resistance to chemical attacks, heat and flame resistance, resistance to incandescent surfaces) above any similar hose existing in the market.
The KEVLAR®, whose properties are already well known (five times higher tensile strength than steel with similar weight), is responsible for enhancing the overall resistance properties of the GOMDUR - 4K® to more than 100% of other dedicated fire hoses.
PRODUCTOS MESA has developed this unique design which allows us to manufacture a 4 layer fire hose, reinforced with KEVLAR® filaments.
TWIN-LINE: Double Extrusion Improvement
GOMDUR - 4K®: Four layer fire hose reinforced with KEVLAR® following TWIN-LINE double independent extrusion process.
Only with exhaustive controls unique to PRODUCTOS MESA, allow us to guarantee that millions of KEVLAR® micro filaments are integrated in the fourth rubber layer. Due to the difficulty of working with new KEVLAR® materials, has obliged us to use a double independent extrusion
TWIN-LINE double extrusion system guarantees a double safety level, being manufactured in two different extruders forming a four layer fire hose perfecty bonded, making impossible the delamination of third and fourth layer.
TWIN-LINE single rubber extrusion × 2 = GOMDUR - 4K®
GOMDUR - 4K®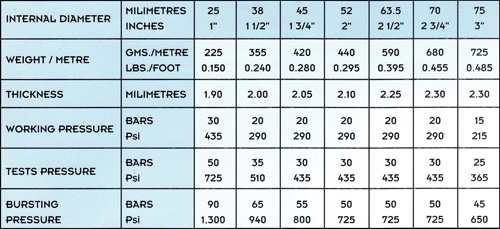 Average result of the finished 96-98 hose batchs
GOMDUR - 4K® fire hose is resistance to: abrasion, acids chemicals, cold, cracking, delamination, heat, kinking, oils, ozone, weather, etc.
Available in longer lengths.
Temperature range: -30°C to +50°C.
Maintenance free: needs no drying after use.
Easy to coll, wet or dry.
Repairs: ask for repair instructions and PM standard repair kit.
Available with different International recognized approvals.
Worldwide distribution. Ask for your local dealer/agent.
HOW TO SPECIFY GOMDUR - 4K® : Four Layer fire hose reinforced with Kevlar, following TWIN-LINE double independent extrusion through the weave process. Outer color: visible yellow.
เขียนความคิดเห็น
ชื่อ:
ความคิดเห็น:
คำแนะนำ:

HTML จะไม่ถูกแปลง!
ความนิยม:
แย่
ดี
ป้อนรหัสในกล่องข้างล่างนี้:
ไม่มีรูปภาพเพิ่มเติมสำหรับสินค้านี้